| | |
| --- | --- |
| Tallulah and Chloe Strapon Custard | |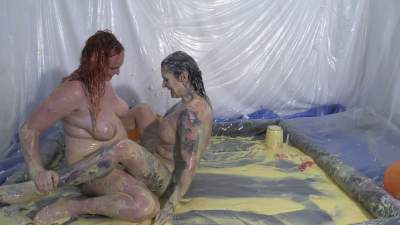 Starring these models:
"Chloe Fucks Tallulah in Custard"
| | |
| --- | --- |
| File count: | 1 |
| Total size: | 920.04 MB |
| Runtime: | 15 mins, 6 secs |
| Released: | 8/30/17 |
| Produced: | 2017 |
| Views: | 4319 |
| Scene ID: | 24273 |
| Producer: | Djmeak |

$6.00
One of gunkedupgirls.umd.net hottest scenes, this is with Tallulah Tease and Chloe Davis. In this scene Tallulah gets fucked and dommed by Chloe in a pool of custard.

Off camera Tallulah says she would love to be fucked by Chloe so we decide, what better way than in a pool of custard. With both models dressed in red fishnet lingerie, both girls head to the pool.

Once the cameras roll, Chloe begins to Dom Tallulah starting with some light nipple sucking before soon Tallulah's head is pulled back and custard is dripped all down her body and runs over her pussy, followed by some hard pussy slapping.

Next the fishnet is completely torn off and Tallulah is forced on her back to raise her legs and spread as some custard is then licked off her now wet and glistering pussy.

Chloe then decides she would like some attention and Tallulah oblijes and pours custard all over Chloe's body and then licks it all off her pussy and boobs, before Chloe loses her dress before getting on all 4's and custard is poured over Chloe's arse before Tallulah licks Chloe's arse and pussy clean/

Chloe orders Tallulah to fit her with a strap on which Tallulah fits, then is ordered on all 4's. Chloe then begins to fuck Tallulah with the strap on before getting a bucket of custard and pouring it over Tallulah's head and then dumping the bucket over her head and fucking her hard.

What then follows is strapon gagging, more fucking and some some more hard fucking.

Report