| | |
| --- | --- |
| Allex Plays DJ's Savoury Quiz | |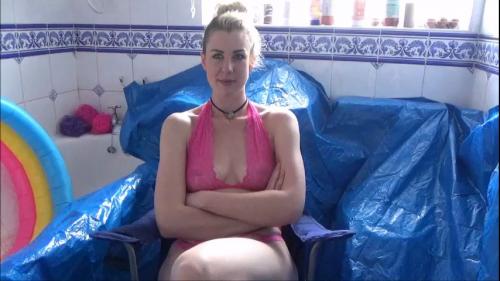 Starring the following model:
"Allex gets Gunked in Savoury Slops in DJ's Quiz"
| | |
| --- | --- |
| File count: | 1 |
| Total size: | 174.15 MB |
| Runtime: | 18 mins, 45 secs |
| Released: | 5/21/16 |
| Produced: | 2016 |
| Views: | 6708 |
| Scene ID: | 18186 |
| Producer: | Djmeak |

$8.00
Allex has decided to put her body on the line for Dj's quiz however instead of the usual gunge, Allex finds out that if she fails its nasty savoury slops.

Also for Allex we have decided to have a bit of fun and change the rules. Basically Allex has to guess the number of questions she is going to get right in 3 minutes and all carry varying degrees of prizes gambling higher also means a better prize, it also means however a higher forfeit.

So sat in the hot seat and with 3 minutes on the clock Allex goes all out and wants to win the top prize, and fails miserably so its off with the lingerie, out of the hot seat and into the splosh pit.

Allex sits nervously in the Splosh pit as Angela is all ready to mess Allex and all in the lovely savoury gunk.

Now Allex has never been messed in Savoury goo before and was unaware how cold it was going to be. (warning: WE Have A Screamer). Yes Allex is very loud and screams how cold it is and makes some wonderful sounds and noises all while getting covered in the Following:

beans

spaghetti

spaghetti Bolognase

Pea and Ham Soup

Tomato Soup

Veg Soup

Oxtail Soup

Pasta Sauce Chicken Soup

Mushroom Soup

mayo

salad Cream

Brown Sauce

ketchup

broccoli and Stilton soup

and much much more

If you like seeing girls getting covered in really nasty savoury mess this is a video for you.

Report