| | |
| --- | --- |
| Sarah Jane Pleasured and Punished | |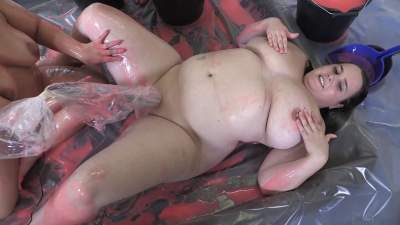 Starring these models:
"Curvy Sarah Jane gets Vibed with Pleasure and Gunkedupgirls as a Punishment"
| | |
| --- | --- |
| File count: | 1 |
| Total size: | 134.32 MB |
| Runtime: | 5 mins, 42 secs |
| Released: | 1/19/19 |
| Produced: | 2018 |
| Views: | 1473 |
| Scene ID: | 32905 |
| Producer: | Djmeak |

$8.00
"Ashley Ryder getting Sexually Pleasured and receiving a Gunky Punishment"

Pleasured and Punished With Ashley Ryder

Sarah is the sixth participant of a new series where models get ultimately Pleasured and equally punished.

Laid naked in the pool Sarah Jane is naked but there is also a naked Ashley Ryder holding a Dixie wand, to provide Sarah with some much needed pleasure but to receive pleasure Sarah has to endure punishment.

Armed with 2 buckets of gunge DJ is ready to provide the punishment warm thick slippery gunge. Some producers do get all the luck, looking down on 2 beautiful sexy ladies naked and ready to get pleasured and gunged

Ashley starts off nice and slow and begins pleasuring Sarah but as she starts to relax and begins to enjoy the moment DJ starts to release the warm gunge on Sarah's naked body.

As Sarah toys with whether to enjoy the pleasure or grimace at the punishment Ashley continues to pleasure Sarah and begins to up the speed of the wand.

As the pleasure increases so does the gunge and the gunge is poured all over the body including her tits and pussy which spurs on her pleasure even more.

Ultimately Sarah reaches her peak and enjoys waves of ecstasy whilst also being ultimately punished Oh and trust me it wasn't fake this Orgasm was definitely real.

Report