| | |
| --- | --- |
| Sarah and Ashley Bodystocking | |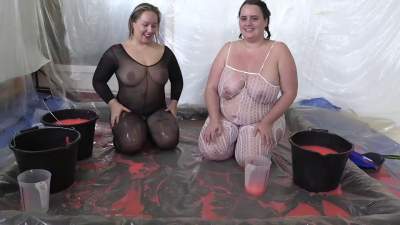 Starring these models:
"Hot new download: Ashley and Sarah Jane Body Stocking Filling and Toying"
| | |
| --- | --- |
| File count: | 1 |
| Total size: | 264.79 MB |
| Runtime: | 11 mins, 43 secs |
| Released: | 8/31/18 |
| Produced: | 2018 |
| Views: | 1388 |
| Scene ID: | 30146 |
| Producer: | Djmeak |

$8.00
In a clear out at Gunkedupgirls HQ we found some body stockings lying around in our wardrobes and thought it would be a shame to waste such great garments so we kitted out Ashley Ryder in a nice black crotch-less body stocking and Sarah Jane in a more white open weave crotch-less body stocking.

In the gunk pool both are armed with some lovely buckets of pink gunge that all ready to pour over and inside the outfits. Ashley says to Sarah to cover her in gunge first which Sarah is more than happy to and immediately fills the stocking with the nice thick warm gooey pink gunge flowing over Ashley's boobs before making it's way out through her crotch. Next the back is filled all down is also filled and then all over Ashley's part exposed pert bottom. Sarah then receives the same treatment and gets her more exposed and open body stocking filled and body coated in lovely pink gunge including her exposed pussy.

Next both girls reach for their friends the toys and start to play with toy themselves Ashley however struggles until Sarah rips open her body stocking fully for her to expose her pussy and allow her easier access.

Both girls continue to toy and pleasure themselves throughout the rest of the scene including some gunky pussy slapping, some gunky dildo wanking--think it could be you they are toying or playing with and more toying pleasure.
Includes this file:
sarah_jane__ashley_ryder_bodystocking.mp4

1920x1080

3,157 Kbps

264.79 MB

11.7 minutes

Report