| | |
| --- | --- |
| Brook Cum's Along and Gets Creamed All Over | |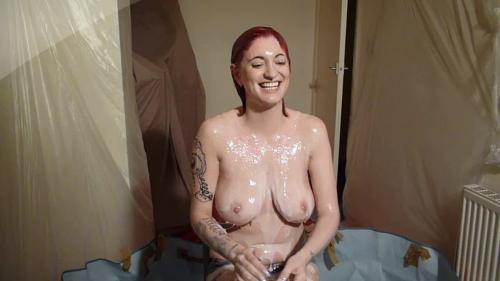 Starring the following model:
"Brook tells her naughty dream and gets creamed in White Slime"
| | |
| --- | --- |
| File count: | 2 |
| Total size: | 118.15 MB |
| Runtime: | 12 mins, 19 secs |
| Released: | 6/01/14 |
| Produced: | 2014 |
| Views: | 5319 |
| Scene ID: | 10323 |
| Producer: | Djmeak |

$6.00
Brook Scott became a visitor of Gunked Up Girls recently and in the words of Top Gear took on some challenges... Well we say challenges more like our silly games where the outcome being topless and covered in mess...

So what games did Brook play well she before letting her play we decided to let Brook tell us all about her naughty and dirty fantasy. The scene begins with Brook sat in the chair in the gunge pit, Brook begins by telling us her fantasy is to walk through into the woods late at night and be surrounded by olderish men whilst being held down, and that she is basically a fan of Bukkake, and then they all surround her and take it in turns to wank over her and cum over every part of her body. She describes how they would start by cumming over her feet, then over her legs, over her stomach, her huge boobs and chest before finally all over her face and hair.

We then ask Brook if she would like to make the fantasy real (without the men of course), to which Brook enthusiastically and excitedly replies with a "yes..." So then the slime begins and Brook begins by describing the feeling of the thick white slime being splatted at her as juicy, before getting a splash in the face, and describing at as not "tasting like the real thing which is good." The goo carries on flowing all over Brooks feet, and she plays with them on camera and rubs the thick sticky white goo all over. Brook then rubs some of the goo over her chest and bikini clad breasts, still describing the slime as gooey and warm. Then we cover Brooks hair and tells you "How she likes it nice, thick and warm." At this point we persuade Brook to go topless and rubs some of the slime over her boobs, before saying that she is getting a little cold so we throw some more goo at her well it would be rude not to wouldn't it. Finally the remainder of the bucket is poured all over Brooks head, and describes the sensation and feeling as "Gunky and Soft." Also without noticing we get pink gunge as Brooks red hair dye starts to run. We all get showered in Brooks cum coated body as she starts shaking her arms and flicking it all over us, before playing and getting some of the goo from under her boobs, before giving you a final seductive wave and goodbye.

For all the latest news follow us on twitter @gunkedupgirls and subscribe to the blog gunkedupgirls.blogspot.co.uk for all the latest downloads and activity and also all the latest sneak preview pics.
Includes these files:
brookscottcumsandgetscreamed.mp4

1280x720

2,229 Kbps

73.62 MB

7.7 minutes
brookscottcumsandgetscreamedp2.mp4

1280x720

2,161 Kbps

44.52 MB

4.6 minutes

Report