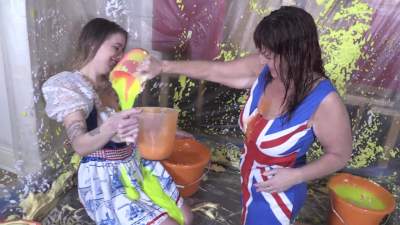 Starring these models:
"Messy Dressy Filling"
| | |
| --- | --- |
| File count: | 1 |
| Total size: | 376.85 MB |
| Runtime: | 16 mins, 42 secs |
| Released: | 3/19/19 |
| Produced: | 2019 |
| Views: | 1042 |
| Scene ID: | 34072 |
| Producer: | Djmeak |

$8.00
In the 1990s The Spice Girks launches Girl Power and inspired by Geri Halliwell Beau Diamonds was looking through the gunkedupgirls costume department and found this amazing outfit. Melody then spooted a dress from her home country of the Netherlands which inspires the Dutch version of girl power from the 80s Dutch Group Fizzle Sizzle. With the scene set the contest was ready and the idea was simple which girl power dress could hold the most gunge.

Que the words action and it doesn't take long for both girls to start and prove pitfalls in the others by filling each other's dresses and covering them in gunge.

Beau starts filling Melodies dress in an aim to prove it won't hold the gunge and cover her like hers. The nice yellow gunge matching her white and blue dress, before melody extracts revenge on Beau by pouring orange gunge all over the Union Jack dress.

Foam is next used from a previous scene and the girls smeer and foam each other up and ensuring the dresses get a liberal covering.

Then it's a full on tit for tat both girls armed with buckets and jugs and want to pour gunge all over each other to ensure the dresses are filled and there is no spare area cleaned.

Both girls then start rubbing the gunge over the dresses and ensuring they are covered and playing in gunge until at the end they have a quick pose to show off there dresses and we will let you decide which is best.

Report